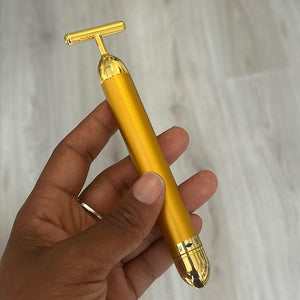 Vibrating massage tool
Regular price
$19.20
$0.00
Unit price
per
Tax included.
Get that super glow through pure relaxation!
Perfect for toning, sculping, minimizing pores and redness, reducing fine lines and boosting blood circulation. 
The vibrations invigorate skin cells to increase absorption, elasticity, hydration and firmness! 
Can be used with hydrating, antioxidant or anti-wrinkle products for better results.
This tool is perfect for massaging temples to help relieve stress and migraines. 
The T-Shaped head makes for easy usage and can be used on the forehead, cheek, neck, collarbone, shoulder, arm, hands & legs!
Recommended use: Wash your face (or specific area) and pat dry. If using a cream or serum, apply to the skin first. Then, using the T-shaped end, go from one side to another in an upwards motion allowing the vibration to stimulate, sculpt and firm the area. Wash after use.
Change batteries when needed. 
Made from Aluminium alloy.
---
Share this Product
---