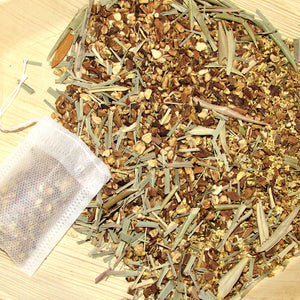 Immune Boosting Loose Herb Tea Blend
Regular price
$12.80
$0.00
Unit price
per
Tax included.
High in Vitamin C which helps to protects our cells.
These herbs each have boosting properties to strengthen  the body.
Lemon Grass - Full of antioxidants which relives flu and cold symptoms. It also limits bacteria growth. Also contains Vitamin C & other worthy nutrients!
Olive Leaf - Vitamin C, Iron, Zinc, Selenium, Chromium, Beta-carotene, Amino acids & the list goes on!!
Cinnamon Bark - Vitamin C! Great for digestion.. making sure our bodies only keep what's good for us and discards the rest! Also inhibits the growth of certain bacteria due to its anti inflammatory properties.
Elderflower - Commonly used for swollen sinuses, colds, influenza, bronchitis, diabetes, and constipation. Full of Vitamin C!
Dandelion - Purifies the blood as it increases our red & white blood cells. It is also known to help our digestive system, protect from viral infections and generally boost our immune system!
Recommended use- Fill a tea strainer with the tea blend. Add boiling water and leave for up to 10 minutes before drinking. A slice of raw ginger works well!
Ingredients- Lemon Grass, Olive Leaf, Cinnamon Bark, Elderflower & Dandelion 
100g - enough for 20 cups
Tastes... fresh & pleasant taste
Please note this not does contain a tea bag just the loose tea blend. 


Store in a cool dry place
---
Share this Product
---