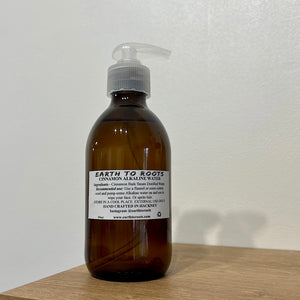 Cinnamon Alkaline Water Toner
Regular price
$4.48
$0.00
Unit price
per
Tax included.
Why Alkaline Water Toner?
- Tap water often has hard metals and other impurities whereas distilled water doesn't making it more beneficial for our pores
- Toning after washing helps to get rid of any soap residue and impurities from tap water
-Alkaline water has anti-inflammatory properties
-Skin has a natural mildly acidic PH and so using Alkaline water helps to maintain a healthy PH
-It also helps to boost blood circulation, promoting healthy cell growth 
Cinnamon is great for balancing oily, especially spot-prone skin as well as the scalp.
Suitable on combination and oily skin. 
Recommended use - Face - Use a flannel or some cotton wool and pump some Alkaline water on and use to wipe your face. It can be used when you first wake up, after showering/bathing and before going to bed. 
Hair - Pump once into your hand then run through your hair. Can also be pumped directly on the hair and scalp.
Ingredients - Cinnamon Bark Steam Distilled Water

250ml Amber Glass Pump Bottle
Smells... lightly spicy, sweet undertone 
For external use only. Keep away from eyes.
Fridge Friendly. Store in a cool dry place.
Our labels are biodegradable so not fully waterproof. Product information is always available online. 
---
Share this Product
---