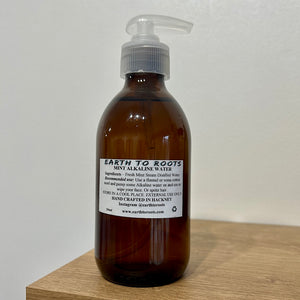 Mint Alkaline Water Toner
Regular price
$4.48
$0.00
Unit price
per
Tax included.
Why Alkaline Water Toner?
- Tap water often has hard metals and other impurities whereas distilled water doesn't making it more beneficial for our pores
- Toning after washing helps to get rid of any soap residue and impurities from tap water
-Alkaline water has anti-inflammatory properties
-Skin has a natural mildly acidic PH and so using Alkaline water helps to maintain a healthy PH
-It also helps to boost blood circulation, promoting healthy cell growth  
Mint helps hydrate the skin and keep pores balanced due to its mild astringent properties keeping skin fresh and healthy.
Can also help with blackheads and acne, soothing skin irritations such as eczema as well as insect bites. 
Suitable on sensitive, dry, combination and oily skin. 
Recommended use - Face - Use a flannel or some cotton wool and pump some Alkaline water on and use to wipe your face. It can be used when you first wake up, after showering/bathing and before going to bed. 
Hair - Pump once into your hand then run through your hair. Can also be pumped directly on the hair and scalp.
Ingredients: Fresh Mint Steam Distilled Water
250ml Amber Glass Pump Bottle
Smells... lightly minty
For external use only. Keep away from eyes.
Fridge Friendly. Store in a cool dry place.
Our labels are biodegradable so not fully waterproof. Product information is always available online. 
---
Share this Product
---